Disaster recovery as a service (DRaaS) solutions can help organizations stay online and operate during any kind of service disruption. As the risk of cyberattacks continues to grow and natural disasters, equipment failures, and human error continue to threaten system availability, cloud-based disaster recovery (DR) can be a critical tool to help organizations strengthen their resilience and protect their data.
What is DRaaS?
DRaaS is a cloud-based DR model delivered by a third-party provider. While a traditional DR plan requires an organization to replicate expensive IT equipment in a separate data center location, DRaaS allows the organization to utilize the cloud infrastructure of a third-party vendor for this secondary environment. The third-party provider also manages the recovery process and the cloud environment to enable rapid, secure recovery of data, applications, and systems.
How DRaaS protects data and availability
To ensure the efficacy of the recovery process, organizations must design and implement a customized strategy that meets their unique data security and availability needs. With DRaaS, organizations can rely on the experience of the provider to help identify system interdependencies, application recovery order, and more, while managing the DR strategy across on-premises, colocation, and cloud environments.
The recovery environment must also be maintained and managed to ensure it works as expected when a disaster occurs. IT deployments can change over time, and regular test cycles can help ensure production environment changes are reflected in the recovery solution. A provider can perform regular tests according to an organization's needs and budget to ensure the recovery process works as planned.
Once the DRaaS strategy is created, the recovery process protects data and availability through three key steps.
Replication
The replication process copies an organization's data and applications to a secondary, virtual environment owned and managed by the DRaaS provider. The frequency with which the servers are duplicated depends on the organization's recovery objectives and risk tolerance. With near real-time replication capabilities, DRaaS can support intense data security and availability requirements.
Failover
When a disaster occurs, the DRaaS provider fails over—or moves—the organization's operations to its cloud recovery environment to ensure continued operations and minimize data loss. The organization continues operations in the cloud until the primary site is restored. The speed and efficacy of the failover process are critical to minimize downtime.
Failback
Failback is performed when the production site has been restored to normal operations. The process involves returning workloads to the primary data center. Once this is complete, replication resumes to prepare the organization for a future interruption.
Benefits of a fully managed DRaaS solution
While DRaaS helps ensure an organization's operations and data remain available and safe, this is only true if the solution meets the organization's unique requirements and operates as intended during a disaster. A fully managed solution with a competent third-party partner can ensure the success and efficacy of the recovery solution and deliver a series of benefits.
Speeds recovery time
A provider with expertise in building and managing DRaaS solutions can improve recovery time, establishing recovery time objectives (RTO) and recovery point objectives (RPO) that align with the organization's resiliency strategy. The combination of expertise, automation, and ongoing management and oversight ensure that the failover and failback processes happen quickly and effectively.
Minimizes data loss
DRaaS can offer near real-time replication to minimize data loss. This is particularly important in industries such as healthcare and financial services that deal with highly sensitive data and strict compliance requirements. Organizations can work with their DRaaS provider to build a recovery strategy that balances their operational needs and budgets.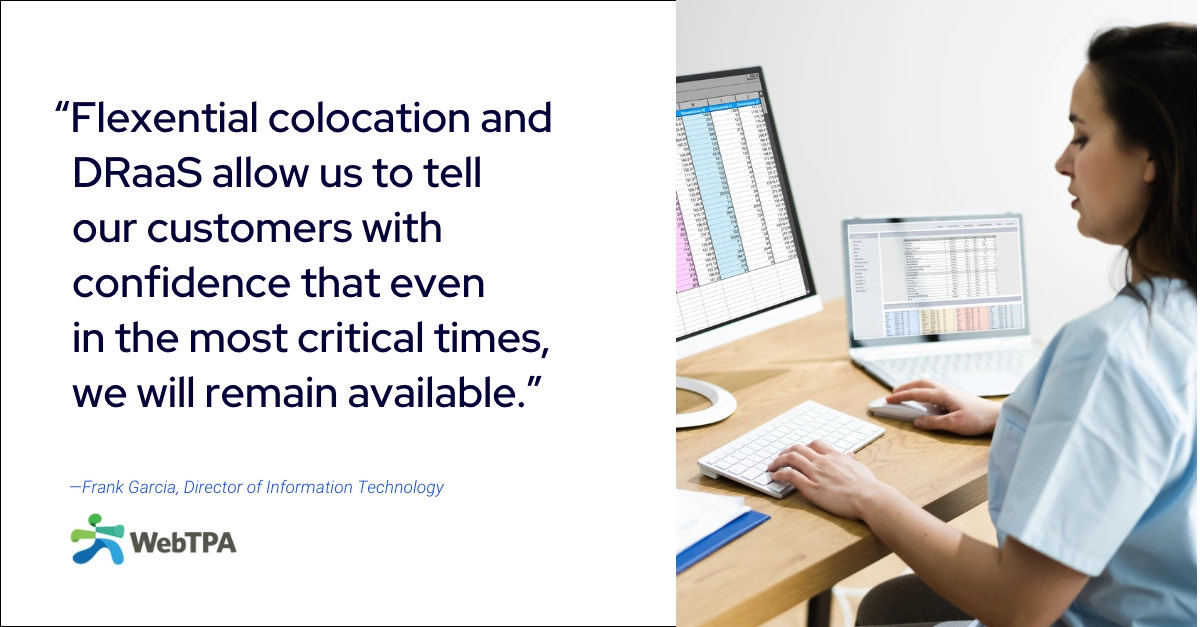 Ensures reliability
Many organizations try to save money by using retired or aging equipment in their DR sites. This can introduce reliability issues. DRaaS providers are in the cloud recovery business and employ modern equipment. They also closely monitor the equipment and virtual environment for performance and availability.
Enables scalability
A recovery environment needs to scale with business growth. With traditional DR, organizations must procure and integrate new servers, which can be time-consuming and complex—especially amidst ongoing supply chain disruptions. DRaaS allows organizations to scale their recovery environments more seamlessly, utilizing the DRaaS provider's existing cloud resources.
Offloads internal resources
Internal IT staffs have a lot of obligations, and managing the DR site is often put off addressing more pressing priorities. DRaaS allows organizations to transfer DR responsibilities to the provider's skilled team, freeing the internal IT team to focus on more strategic initiatives.
Achieves cost efficiencies
Deploying and maintaining a recovery site with duplicate servers and other data center resources is expensive. Using DRaaS, organizations avoid the expense of equipping and maintaining a second facility. Instead, they share the DRaaS provider's resources with other customers to achieve economies of scale.
Key takeaway
DRaaS can be a powerful tool to help organizations protect their data and ensure the continued availability of their IT environments during the worst situations. To get the most out of a DRaaS solution, organizations must ensure their solutions are properly aligned with their needs. A trusted DRaaS partner is key.
WebTPA, a customized healthcare benefits administration company, utilized Flexential colocation and the Flexential Recovery Cloud, a fully managed, real-time DRaaS solution, to ensure the resilience of its web portal and protect its customers' sensitive data.
Read the WebTPA customer story to learn how Flexential helped the company ensure its customers always have access to its web applications and their data.